What is the Best Daily Contact Lens in 2023?

When it comes to daily contact lenses the top three for 2023 are:

Daily wear contact lenses are a great option due to their simplicity of use. They have increasingly captured the market share over other types of contact lenses, for example monthly lenses, that have to be removed each night and cleaned.
Our own research, from our sales of over 4 million orders, has shown an increase over the last decade of daily contact lens sales from 25% of the market to 75% of sales today. Our top 6 selling contact lenses are now daily lenses, and we will cover them all in our review to show you what customers are buying.
It all started with one daily lens from Johnson and Johnson called 1 Day Acuvue in the 1980's. Today there are multiple brands of daily contact lenses. Which one do you choose - or does your Optometrist choose for you?


Which is the Best Daily Contact Lens in 2023?

In order to find the best daily contact lens we looked at the technical specifications - the water content, availability of a UV block, oxygen transmission, wetting properties and material. On the prescription side, we looked at the powers that are available and overall size, and fitting characteristics. Last but least we looked at the consumer experience - what was the customer feedback on the daily lenses, and of course, the price. So here we go with our review and some final recommendations.



Focus Dailies Aquacomfort Plus
This lens is manufactured by Alcon and is the natural advancement in the daily lens market. Originally they had a best-selling lens called Focus Dailies (now discontinued), then improved on from that with Focus Dailies All Day Comfort, (being phased out) which included additional moisturizers, and their latest lens is Dailies Aquacomfort Plus. Each daily lens builds on the success of the last, striving to get the ultimate all day comfortable lens.
Research has shown that end-of-day comfort is the biggest problem for contact lens wearers. Alcon has addressed this problem by using the same ingredients found in artificial tears and rewetting drops - a compound called PVA, plus two other moisturising agents - and building these triple action moisturisers directly into the Aquacomfort plus contact lenses.

These lenses come in a wide range of powers from -15.00 Dioptres (where the average short sighted person is -2.00 Dioptres) to +8.00 Dioptres for long sighted people. This lens uses the most common back radius and diameter of 8.7/14.00, which has been shown to fit the most common eye shapes. Basically a 'one size fits all contact lens'. They also incorporate a UV filter and a high 69% water content.
Pricing is in the middle of the market at about £40 for 30 pairs (1 month supply)
Our customers rate this lens as 4.5 stars out of 5 stars with particular praise given to comfort at the end of the day.
This Dailies AquaComfort Plus family of lenses has been extended to incorporate lenses for astigmatism with Dailies Aquacomfort Plus Toric, and presbyopia Dailies AquaComfort Plus Multifocal, both offer all the advantages of Focus Dailies Aquacomfort Plus.


1 Day Acuvue Moist
Johnson & Johnson manufactures the Acuvue range of daily contact lenses. They have been around since the 1980's and 1 Day Acuvue was the very first daily contact lens. Since then, they have been modified and improved upon, and the best selling of their range is 1 Day Acuvue Moist, introduced in 2016.
Johnson & Johnson has also followed the pattern of Alcon in introducing moisturising agents to the lenses to achieve better all day comfort, in their case a water embedding agent called Lacreon, which is similar to a material found in tears.
1 Day Acuvue Moist daily contact lenses come in a wide variety of powers, from -12.00D to +6.00D, and also in two radius, to offer the Optometrist a better option when fitting different shaped eyes. (8.5 & 9.00 radius both with 14.2 diameter). They also have a UV filter, 59% water content and a useful '123' inside out indicator.
Pricing is on the middle to high end at about £46 for 30 pairs.
Customers rate this lens on our site at 4.6 stars out of 5. Once in their eyes and settled, customers like them for their all day comfort.
To cater to customers with astigmatism Johnson & Johnson introduced 1 Day Acuvue Moist for Astigmatism and 1 Day Acuvue Moist Multifocal to correct presbyopia.
Crystal Aqua Daily
We are going to blow our own trumpet a bit here and talk about Crystal Aqua Daily.

Why did we introduce our 'own brand' range of daily contact lenses?

Well, we listened to our customers who told us they liked the idea of daily contact lenses but did not like the price. So, we researched manufacturers world-wide and found daily lenses that we liked, at a price that was much better. But could we match the quality of the other main manufacturers?

First we introduced Crystal 1 Day - a lens that offers aspheric optics for great focusing, with a moisturising agent for all day comfort, multi back curves to provide great fit, superb handling, an easy to open packet, UVA & UVB protection, CE and ISO approved for maximum safety and an easy direct replacement for existing daily lenses on the market. All at a great price of £15.50 for 30 Pairs.

Then we went one better with Crystal Hydro Daily, which had all the advantages of Crystal 1 Day but better all day comfort with advanced material.

Both of these lenses got 4.7 stars out of five reviews.

But could we do even better - find a lens that was more advanced, that the customers would like better, AND for a CHEAPER price?

We did this with our own brand Crystal Aqua Daily.

Key features:

The presence of hyaluronic acid linked to the polymer matrix allows prolonged portability and high quality performance throughout the day
Better water retention capacity than all hydrogel materials
High comfort and effective action against dry eye syndrome
Aspheric optics give you great, stable vision,
Superb handling (reports back that the lens holds it shape very well when inserting - some lenses lose their shape and make it difficult to insert)
UV filters (UVA 70% protection & UVB 95% protection)
Light blue tint to help with handling
Higher Oxygen transmission through the lens, helps your eyes breathe normally
Designed to be an easy direct replacement for 'branded' contact lenses for example Focus Dailies Aquacomfort Plus and 1 Day Acuvue Moist, but at up to 50% cheaper
CE 93/42/EEC Directive on Medical Devices, ISO 13485-1, GMP certified for your safety
We basically ticked all the boxes AND at £14.98 for 30 pairs it is now cheaper than the best selling Biofinity monthly lenses! and receives 4.8 stars out of 5.

So, incredibly, Crystal Aqua Daily works out to be cheaper than monthly lenses (£14.98 / month for Crystal Aqua Dailies vs £20.05 /month for Biofinity Monthly) and as the name suggests, daily disposable lenses are designed for one-day usage - so are very convenient and no hassle.

Soflens Daily Disposable
This daily lens from Bausch and Lomb has been around for a long time and is mainly popular because good quality reasonably priced lens at £35.98 for 30 pairs.
Soflens Daily Disposable comes in powers from -9.00 Dioptres to +6.00 Dioptres with a 59% water content. Our customers give it only 3.7 stars out of 5.
It is a good lens for everyday wear, priced in the mid-range, with many happy customers who have been happy wearing it for many years.
Proclear One Day
This daily lens was built on the success of Proclear Monthly contact lenses, a lens that was very successful 10 years ago.
Proclear 1 Day Powers range from -12.00 Dioptres to +8.00 Dioptres and prices are mid range at £33.98 for 30 lenses.
Customers generally like this lens, giving it 4.3 stars out of 5, with positive results on end-of-day comfort. A good stable lens right in the middle of the market.
Dailies Total 1
Alcon invested a lot of time and money in research to introduce a totally new concept in daily lenses - a water gradient lens called Dailies Total 1.

The surface of this lens has a super hydrophilic material that has a surface water content of over 80% which provides exceptional comfort. The core for the lens, sandwiched between the front and back surfaces is silicone-based - providing exceptional oxygen levels to the cornea.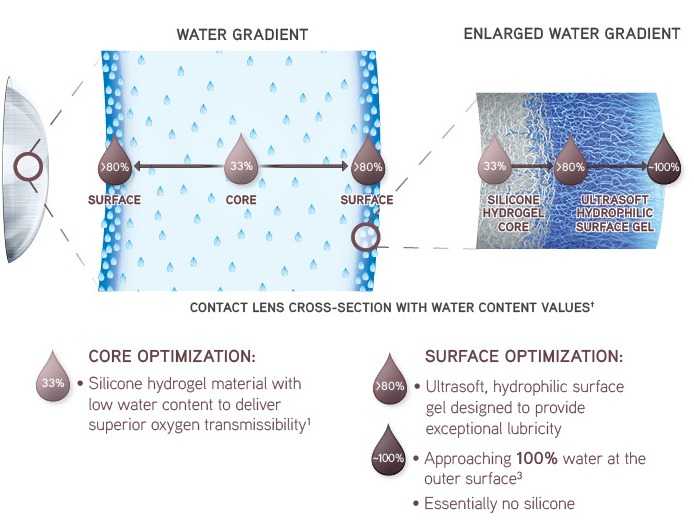 This lens is available in powers between -10.00 Dioptres to +6.00 Dioptres, with one fit radius and diameter of 8.5 and 14.1
Alcon claims that 9 out of 10 customers cannot feel this lens on their eye. Our customers agree, giving it 4.6 stars out of 5, with most customers saying it is the most comfortable lens they have ever worn.
However, this remarkable lens comes at a cost - roughly £61.98 for 30 pairs.


So, Which Is The Best Daily Contact Lenses For 2023?
We have three winners for you depending on whether you want the best contact lens based on price, popularity or advanced technology:
The Winner for Price
Crystal Aqua Dailies are a clear winner on price at only £14.98 for 30 pairs. At this price there really is no need to use monthly lenses and messy solutions anymore. Optometrists also agree that Daily Lenses are far healthier for your eyes than any other type of contact lens.
In addition, Crystal Aqua Dailies also uses an advanced material for great oxygen transmission, UV blocking, good handling and 5 star customer reviews.
The Winner for Popularity
It is a close call between Dailies Aquacomfort Plus and 1 Day Acuvue Moist.
Both of these lenses have advanced materials, UV blocks and wetting agents included for all-day comfort.
But we have to give the award to, Dailies Aquacomfort Plus based on positive customer reviews and price.
Winner of Most Advanced Daily Lenses
This has to go to Dailies Total 1 for inventing a totally unique 'sandwich' material construction, combining high water content on the surface with a core of silicone.